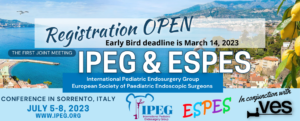 Abstract Submission for the 1st Joint Meeting of IPEG & ESPES is now

CLOSED

!
Please check your email for abstract notification of acceptance in early 2023!
GENERAL INFORMATION
SUBMISSION – Abstracts must be submitted via the Oxford Abstract Submission Site.
SUBMISSION DEADLINE– Abstract submission is now closed.
NOTIFICATIONS – Sent to authors in late February 2023. Notifications are sent to the contact author's email address provided during submission.
REGISTRATION – All presenters must be registered for the 1st Joint Meeting of IPEG & ESPES.
ABSTRACT SUBMISSION GUIDELINES AND REQUIREMENTS 
The 1st Joint Meeting of IPEG & ESPES will take place between 5-8 July 2023 in Sorrento, Italy, and will be the first Pediatric MIS World Congress to involve all pediatric surgeons dedicated to Minimally Invasive Surgery. 

The official language of the congress is English.
VIDEO ABSTRACTS
Abstracts are required and are to be submitted under the Video category
Upload the video file with WeTransfer and email the download link to:

[email protected]

Identical instructions for video abstract as for oral presentation abstract
Abstracts will be judged on originality, scientific merit, study design, clarity of expression, data presentation, adherence to submission rules, and relevance.
The Program Committee will determine the presentation method for selected abstracts, e.g., podium, short oral, or digital poster. The presenter may accept or decline with no associated penalty.
Please note that each author can only present up to 2 accepted orally presented abstracts. 
All presenting authors must register for the meeting.
---
We hope to see you in Sorrento, Italy July 5-8, 2023!